Perfect Wedding Venue
Choose Albany Plantation with traditional Cajun country french atmosphere complete with a garsoniere. Call us and come see for yourself the outbuildings and take in the beauty of the 200 year old live oaks that surround our wedding venue.
Seated on 33 acres makes Albany Plantation an ideal wedding location, especially for those looking for a reception location that is in the Hammond La area and provides some of the most stunning outdoor wedding surroundings.
Fashioned after the plantation houses that were so common along the great River Road between New Orleans and Baton Rouge during the 17th and 18th centuries. Albany Plantation is sure to give you the feel that you've traveled back in time, so enter into a bygone era of wooden bridges and picket fences.
We are an excellent choice for a wedding venue especially if your guests will be coming from New Orleans as well as Baton Rouge because we are situated almost half way between them. We are easy to find, Take Albany exit 32, then north on Louisiana 43 (hwy43) , straight shot 5 miles,
Albany Plantation is on the right. Our plantation with exposed beams make for a historic setting along with all the old brick work and over 200 feet of second floor balconies. The bride and bride maids love the balcony setting. They can enter the balcony from the second floor dressing rooms, walk along the balcony above the crowd of guest seated below and down the stairs to meet the groom and grooms men.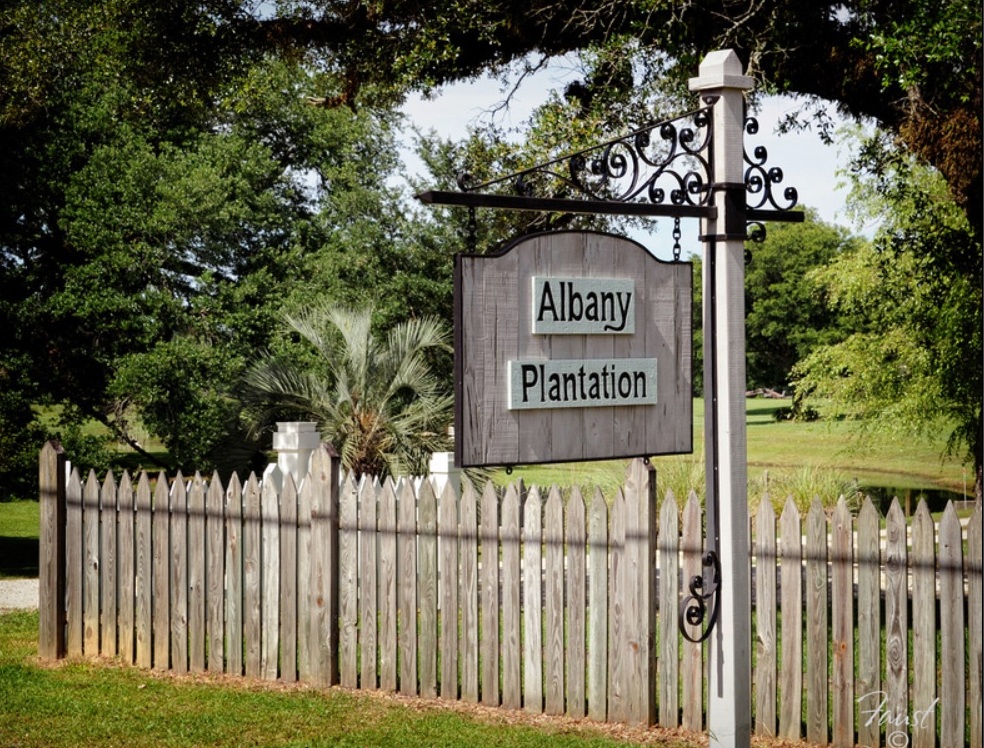 Receptions and Weddings
We have wedding packages to fit most budgets, whether your reception is elaborate or a more private event with a small and intimate wedding setting. While some wedding venues won't allow outside vendors and limit your options, Albany Plantation will put you and your special day first giving you choices and options. Our staff will assist you from the moment you enter our gates giving you the freedom to pick and choose a caterer, photographer or bartender. We are very flexible and will be here for you when you need us. Give us a call and let's talk and focus on your plans.
Albany Plantation is a place where we value God, Family and Country — country music, old time rock n' roll, rhythm and blues, swamp pop, bluegrass, jazz, etc.
We are a place that promotes a Family Atmosphere and Children are Welcomed.
Albany Plantation is not audacious, but has a simple and unique elegance found no where else. We hope that you would consider us to be apart of your wedding or event. We Always put our customers first and will go the extra mile to make sure your satisfied.